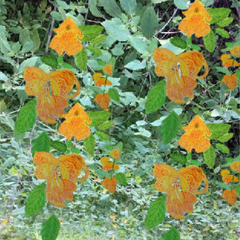 Preserving Herbs for the Winter and Spring Seasons
The days are getting shorter and the nights colder as fall is approaching in the northern parts of our country. Plants are developing seeds and the bees still collecting pollen. We are harvesting a lot of our herbs including jewelweed for our
Jewelweed Salve
,
Jewelweed Topical Mist
, and
Jewelweed Soap
.  
We are also drying herbs including 
jewelweed to preserve for use in the winter and spring. Harvesting the herbs fresh upholds the integrity of the herb's powerful infusions and extracts which is necessary for an efficient synergy. The vitality is preserved for correcting skin issues and restoring the health and beauty of the skin thanks to the enzymes that are still alive and needed for the assimilation of the vital compounds, antioxidants, bioflavonoids, protein, vitamins, and minerals in our soothing mucilaginous salves, extracts, and infusions.