5 Topical Benefits for St. John's Wort Oil
Posted by Anne Sangemino on
St. John's Wort (Hypericum perforatum)
What does St. John's Wort have to do with John the Baptist?
Folklore ties the name Saint John's Wort to John the Baptist. When the Romans severed John the Baptists head his blood drained to the ground. St. John's Wort sprung up out from the earth where his blood lay. Saint John's Wort blooms around or on July 4th - Independence Day. 
How does freedom play into such lore? We know St. John's Wort is beneficial for issues of blood, with many similarities, 'It is sweet, oily, warm and drying'.
Externally it soothes the pain, eliminates swelling and clears the skin condition before blood corpuscles rupture, preventing hemorrhaging. It mends bruises and black and blue marks. Swelling caused by poor circulation may cause varicose veins.  Left untreated the blood corpuscles begin to explode causing black and blue marks and eventually rupture. St. John's Wort Oil soothes and comforts a weary soul.  Hypericum's natural anti-inflammatory, protects the skin eliminating soreness, is a first aide which may protect from ruptures and hemorrhaging. We also know Hypericum perforatum is an astringent with a powerful nervine antidote. An astringent tightens skin tissue which alleviates swellings.  A nervine stops the throbbing needle like condition and nerve pain associated with some inflammatory conditions. It may become so bad something could explode by surfacing outward toward the skin for relief from all the swelling.  St. John's Wort Oil soothes while bringing down the swelling and throbbing nerve spasms.  Freedom from stressful conditions within the skin is associated with the virtue of this beautiful flower.
Shoveling my driveway, a total of 9 hours in 3 days tightened my shoulder muscles and arms to the point of painful spasms and woke me up at 4:00 – 5:15 in pain. Mike woke up and I asked him to rub St. John's Wort Oil into my upper back, shoulders, and arms. We used straight infused St. John's Wort Oil without essential oils this time. To my surprise I fell into a deep sleep, was dreaming, and woke up at 8:15 without pain. It has worked for 6 hours, pain free! Time for some more... I have not taken anything internally for pain or inflammation. Pretty amazing results...More snow falling today, so far 4 inches. I am waiting for it to stop and will shovel in shorter increments. I will keep you posted on the results I'm getting from St. John's Wort Oil. We do make a St. John's Wort Massage Oil with Essential Oils also.
4th day, I put St. John's Wort on every 6 hours and shoveled for an hour, ate lunch, and shoveled another hour.  It works as an anti-inflammatory and soothes tight muscles. As Mike was rubbing the oil into my muscle he said my muscles between the shoulders loosen up from the morning. This was after 2 hours of shoveling!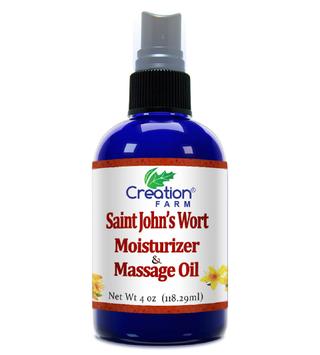 In folklore it used for external use.  It is best known as a first aid for injuries to nerves and is traditionally used for in the fingers, spine, should, neck and around the eyes where there are sharp shooting pains and inflammation along the nerves. Remember the nerves are lodged in the skin and travel to the central nervous system. Nurturing the skin with St. John's Wort Oil soothes the nerves which calms down inflammation and tenderness to the touch.  When the nerve endings relax the central nervous system will not sound the alarm which triggers inflammatory responses. This describes the soothing relief from tension spasms, redness, heat, shooting, sharp and needle like nerve pains.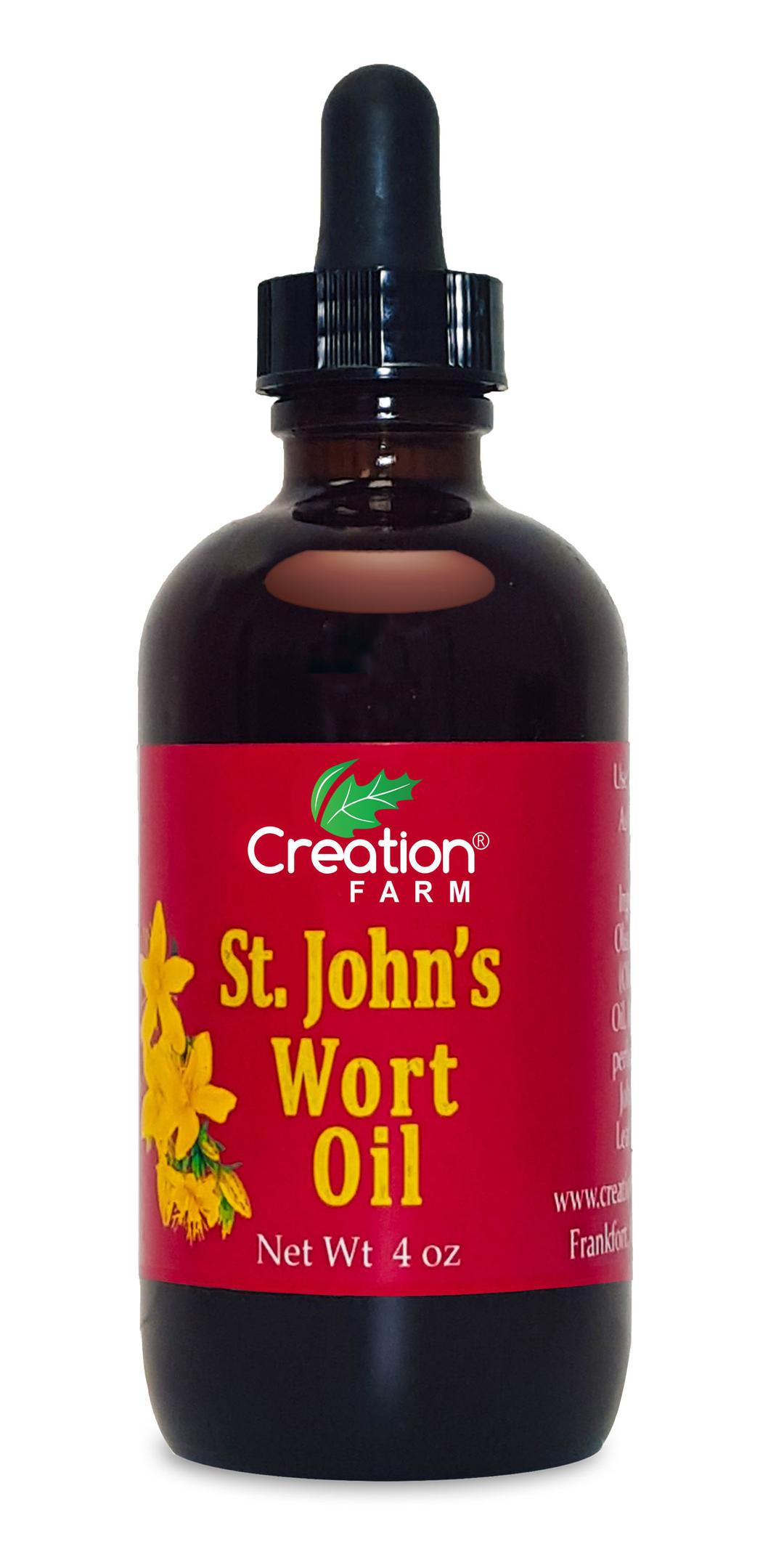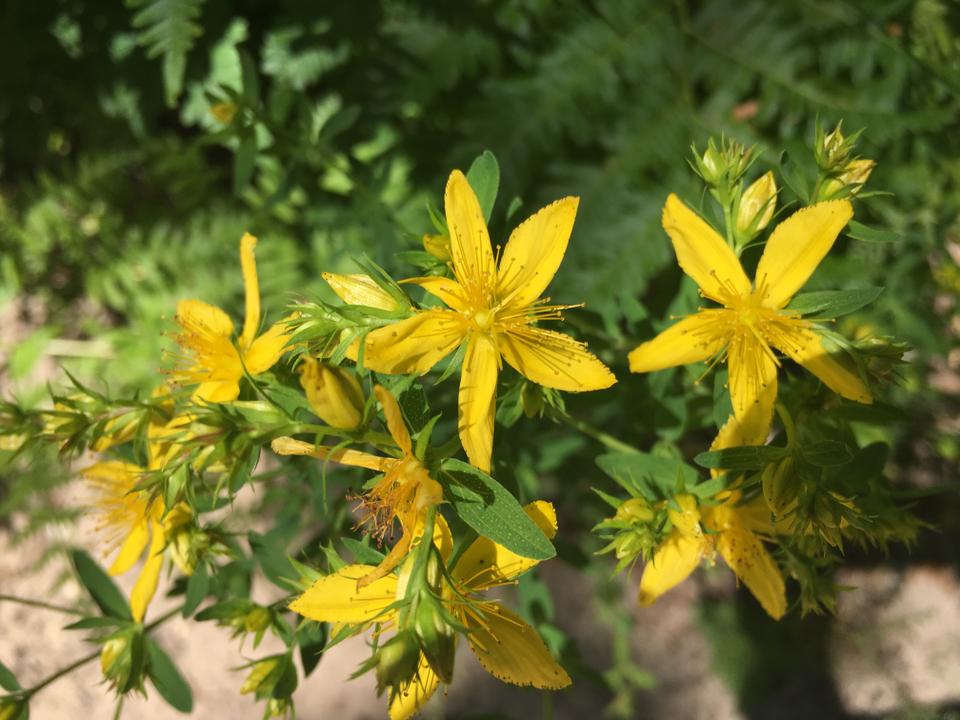 I also love how soft St. John's Wort Oil makes my skin feel after rubbing it into my hands when they begin to hurt. I start to rub my hands together when I realize the pain is gone and am delighted the dryness and calluses are moisturized and so soft. This is probably why our ancestors equate St. John's Wort to freedom or Independence Day. How well a whole plant extract can free up your day. It works well.
There's no time like the present to try an herbal remedy instead of over the counter pain and anti-inflammatory pills all the time.  A safer alternative to reduce the amount of prescription medications which may add years to a better quality life style, without addictions. The pain will subside naturally.  Alternate with St. John's Wort Oil.  Start slowly to cut back on medications and see if applying St. John's Wort topically makes a difference.
Also, taking a bath in Epsom salt and add Lavender Essential Oil to your bath will soothe inflammation and draw out pain.  After your bath use St. John's Wort for your moisturizer and anti-inflammatory. 
You may enjoy the synergy and the effects Epsom salt baths with Lavender Essential Oil have on your circulation and whole body?  It will help mood swings, foggy brain and strengthen your immune system.
Whole plant extracts support the integral relationship between our body and mind. Their side effects are beneficial to your health.  Whole plants for whole people is an holistic approach for your health and well being. 
:|zpendofcontent|:
---
Share this post
---
---